Fuel
Intuitive graphical interface
Consumption and usage data is available in a variety of intuitive on-screen graphical formats.
Detailed printouts
Detailed Crystal Reports are available on screen or as hard copy printouts.
MPG or L/100km
Information can be displayed in MPG or L/100km depending on your preference.
Fuel & Oil
Consumption data per asset is available for any number of defined items. This could include for example 'Diesel', 'Red Diesel', 'Oil'.
Data checking
Errors and inconsistencies are highlighted in red and can be easily corrected on-screen with the benefit of all known related fuel information.
Fuel merging using intuitive excel import
Most Freeway users have multiple sources of fuel. Each source, such as a fuel card or a fuel monitoring system for on site fuel tanks will usually provide good management information – provided that it were the only source of information on fuel used and distance travelled. But each fragment of information is of little use until it has been combined with all other data sources. Freeway's excel import merges all data sources so that a vehicle's fuel consumption and usage pattern can be analysed based on, for example: Fuel Card One on the 1st, Fuel Card Two on the 2nd and on-site fuelling on the 3rd.
Identify the rogue vehicles
Most Freeway customers have mixed fleets operating in complex business environments. Within these environments Freeway can pick out rogue vehicles within each user-defined peer group of vehicles.
Drill Down to Fill by Fill level
Once Freeway has identified sections of the fleet that are performing poorly it is possible to 'drill down' to the individual vehicle's performance, and then to a fill-by-fill consumption analysis.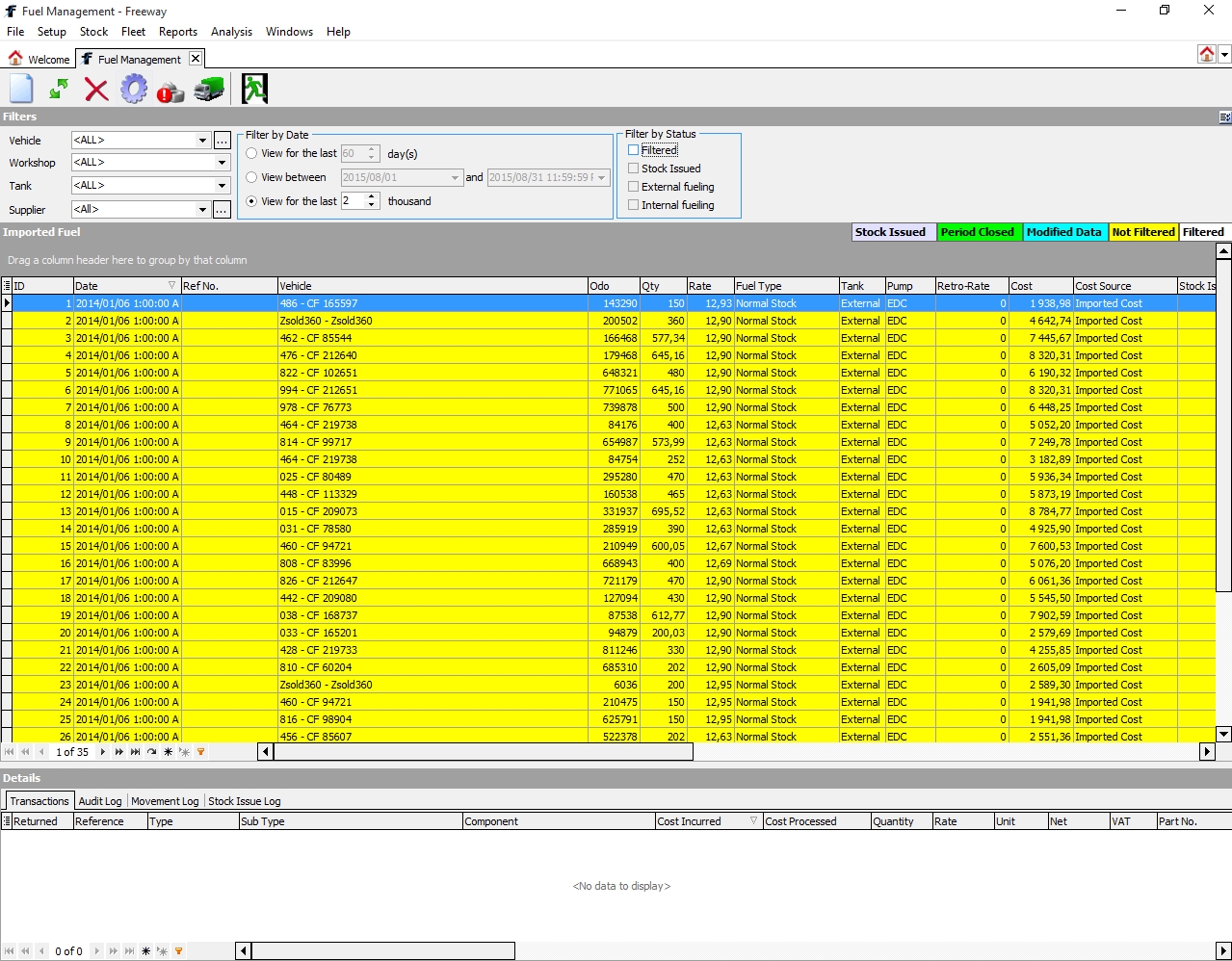 | | | | |
| --- | --- | --- | --- |
| | | | |
| Control all aspects of your fleet | Mobile Work recording | Mobile Authorisation | Advanced Analysis |
| Use a single integrated application to manage your asset register, fuel, stock, defects, routine maintenance, job-cards, sales invoices and much more besides. | Record ad-hoc defects, carry out structured vehicle inspections, and record work on our electronic job-card via smart phone or tablet. | Use the Freeway purchase order authorisation to enable your managers to view and control spend with our smart-phone based authorisation application. | Analyse the productivity and efficiency of your fleet, depot, staff, and suppliers. Freeway provides you with graphical, intuitive, flexible and instant analytic reporting. |
| Details | Details | Details | Details |
Training

Training can be provided at your premises or off-site to suit your requirements.

Our expert trainers are experienced and knowledgeable, having spent many years working in fleet management. They will work alongside you to ensure that you get the most from your Freeway software.

Training can be provided directly to your end-users, or at larger sites we can provide training to designated super-users with a 'train the trainer' approach.
Technology

Our focus has always been to leverage the latest technology to provide user-friendly solutions that meet our customer's problems.

This approach has led to progressive development of our software over many decades. The most recent developments of our web-based platform includes tablet and smart-phone applications (Apple, Windows and Android).

The software is modular and can be scaled as your fleet grows, or as your business processes change.
Integration

Freeway integrates with a host of back-end accounts packages (including, but not limited to: SAP, Accpac, Sage, Pastel, and Microsoft Great Plains), Fuel Monitoring Systems (such as Balvin, Triscan), Fuel Cards, Tracking Systems and TMS Systems.

Data can also be accessed directly from the ODBC compliant database, or via one of the more than 200 structured reports, or by right-click and 'open as Excel'.

Imports to Freeway can also be managed as standard EDIs (for example from your parts suppliers), or may be facilitated from the Freeway importer which produces Excel templates for you to populate and import vehicles, suppliers, parts, price updates, customers, and more.