Advanced Analysis
Freeway provides the tools to flexibly and immediately identify trends across time, vehicle manufacturer, and location.
Freeway's intuitive drag-and-drop cost analysis gives you the ability to interactively slice, dice and graph your data by manipulating variables such as Sub-Type ('Clutch', 'Tyres', etc.), Make, Range, Model, Asset Type, and Reason (such as 'Accident', 'Avoidable Damage', and 'Scheduled').
Pick out the exceptions by reference to absolute cost, trends in cost over time, and / or cost per kilometre, mile or hour.
From big-picture trends, instantly drill down to the details to understand the causes of high cost or exceptional efficiency.
Use staff management interfaces optimised to identify productivity by trade, staff, and task (such as 'brake re-line') with comparisons across dimensions such as region, depot, and time-frame.
Use specialist fuel analysis interfaces to readily identify poor fuel consumption by Make, Model, Region, or Route Type. Drill-down to identify poor performance by vehicles within the group. Drill-down further to identify per-fill anomalies for a vehicle.
Analysis is available in a variety of formats. On screen graphical analysis, on demand printed reports, scheduled e-mailed reports of pre-defined data sets or exceptions. Data grids that may be filtered, sorted, grouped, and summed.
Data grids (list of vehicles, parts, parts costs, purchases, suppliers, authorisations, job-cards, sales invoice, purchase orders, etc.) may be exported to Excel, HTML, CSV (with simple right-click option) if you prefer to manage your reporting directly from raw data feeds.
More than 200 standard reports are available. These are 'Open source'. You may use Crystal Reports to open and edit these to meet your exact requirements.
Our database is also ODBC compliant to allow you to access the data directly and use an alternative / preferred report writing tool.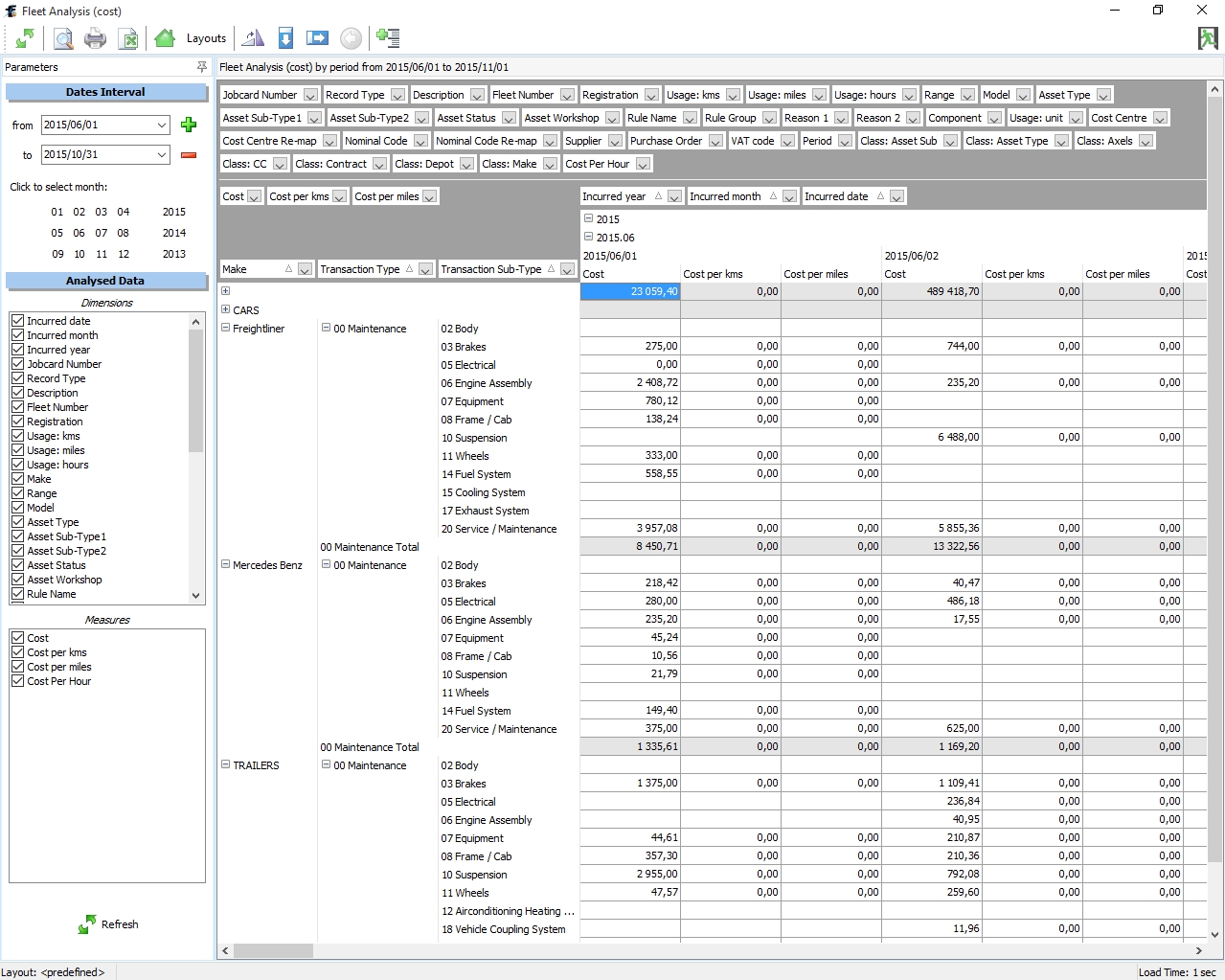 | | | | |
| --- | --- | --- | --- |
| | | | |
| Control all aspects of your fleet | Mobile Work recording | Mobile Authorisation | Advanced Analysis |
| Use a single integrated application to manage your asset register, fuel, stock, defects, routine maintenance, job-cards, sales invoices and much more besides. | Record ad-hoc defects, carry out structured vehicle inspections, and record work on our electronic job-card via smart phone or tablet. | Use the Freeway purchase order authorisation to enable your managers to view and control spend with our smart-phone based authorisation application. | Analyse the productivity and efficiency of your fleet, depot, staff, and suppliers. Freeway provides you with graphical, intuitive, flexible and instant analytic reporting. |
| Details | Details | Details | Details |
Training

Training can be provided at your premises or off-site to suit your requirements.

Our expert trainers are experienced and knowledgeable, having spent many years working in fleet management. They will work alongside you to ensure that you get the most from your Freeway software.

Training can be provided directly to your end-users, or at larger sites we can provide training to designated super-users with a 'train the trainer' approach.
Technology

Our focus has always been to leverage the latest technology to provide user-friendly solutions that meet our customer's problems.

This approach has led to progressive development of our software over many decades. The most recent developments of our web-based platform includes tablet and smart-phone applications (Apple, Windows and Android).

The software is modular and can be scaled as your fleet grows, or as your business processes change.
Integration

Freeway integrates with a host of back-end accounts packages (including, but not limited to: SAP, Accpac, Sage, Pastel, and Microsoft Great Plains), Fuel Monitoring Systems (such as Balvin, Triscan), Fuel Cards, Tracking Systems and TMS Systems.

Data can also be accessed directly from the ODBC compliant database, or via one of the more than 200 structured reports, or by right-click and 'open as Excel'.

Imports to Freeway can also be managed as standard EDIs (for example from your parts suppliers), or may be facilitated from the Freeway importer which produces Excel templates for you to populate and import vehicles, suppliers, parts, price updates, customers, and more.