Mobile Authorisation
Each user within Freeway may be linked to one or more stores (such as 'Engineering North' and / or 'PPE South' and / or 'Office Expenses East'). Each user may also be assigned a financial authorisation limit. In this way a 'chain of authorisation command' for Purchase Orders is defined amongst the system users at your stores.
Purchases within a user's authority level may be mailed direct to a supplier. Purchases exceeding a user's authority will be e-mailed to the next authority level.
On receipt of a request to authorise an order a user may:
'Authorise' the order to the supplier (if the order is within their authority level and they approve of the Purchase).
'Support' the order to the next user in the chain (if the order exceeds their authority but they wish to progress the purchase).
'Cancel' the order (in the event that they do not approve the order). Once an order is Cancelled, Freeway will automatically e-mail this status to the user that created the order, as well as all users that supported the order to that point. The e-mail can include the reason that the order was cancelled.
A user receiving an e-mail requesting authorisation approval may click on a link within the e-mail to open a smart-phone interface for one-click authorisation / cancellation of the order.
There is a full audit trail of authorisation.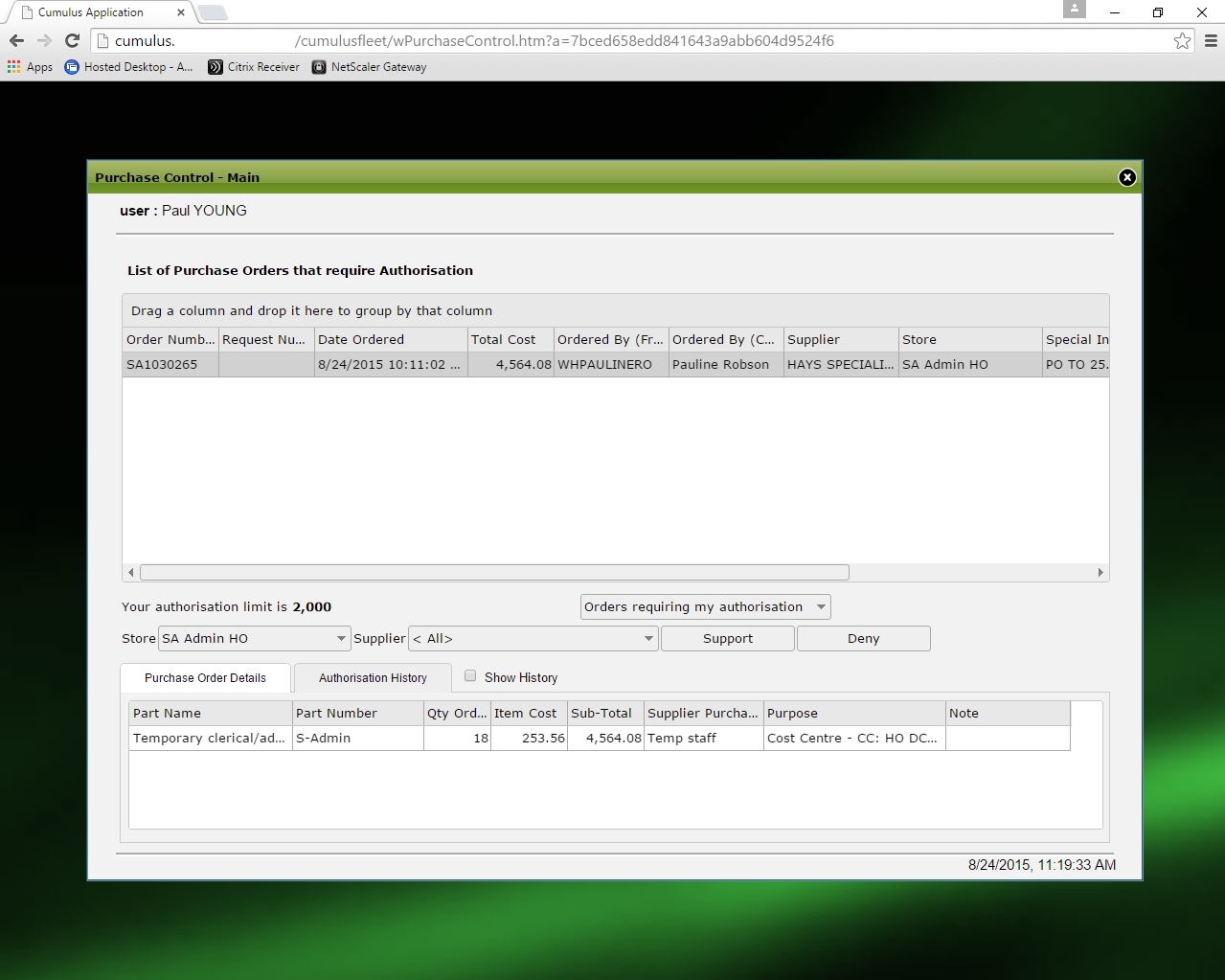 | | | | |
| --- | --- | --- | --- |
| | | | |
| Control all aspects of your fleet | Mobile Work recording | Mobile Authorisation | Advanced Analysis |
| Use a single integrated application to manage your asset register, fuel, stock, defects, routine maintenance, job-cards, sales invoices and much more besides. | Record ad-hoc defects, carry out structured vehicle inspections, and record work on our electronic job-card via smart phone or tablet. | Use the Freeway purchase order authorisation to enable your managers to view and control spend with our smart-phone based authorisation application. | Analyse the productivity and efficiency of your fleet, depot, staff, and suppliers. Freeway provides you with graphical, intuitive, flexible and instant analytic reporting. |
| Details | Details | Details | Details |
Training

Training can be provided at your premises or off-site to suit your requirements.

Our expert trainers are experienced and knowledgeable, having spent many years working in fleet management. They will work alongside you to ensure that you get the most from your Freeway software.

Training can be provided directly to your end-users, or at larger sites we can provide training to designated super-users with a 'train the trainer' approach.
Technology

Our focus has always been to leverage the latest technology to provide user-friendly solutions that meet our customer's problems.

This approach has led to progressive development of our software over many decades. The most recent developments of our web-based platform includes tablet and smart-phone applications (Apple, Windows and Android).

The software is modular and can be scaled as your fleet grows, or as your business processes change.
Integration

Freeway integrates with a host of back-end accounts packages (including, but not limited to: SAP, Accpac, Sage, Pastel, and Microsoft Great Plains), Fuel Monitoring Systems (such as Balvin, Triscan), Fuel Cards, Tracking Systems and TMS Systems.

Data can also be accessed directly from the ODBC compliant database, or via one of the more than 200 structured reports, or by right-click and 'open as Excel'.

Imports to Freeway can also be managed as standard EDIs (for example from your parts suppliers), or may be facilitated from the Freeway importer which produces Excel templates for you to populate and import vehicles, suppliers, parts, price updates, customers, and more.