Defects
Rapid defect entry
Defects can be captured from driver defect sheets, by remote driver hand-held devices, or from hand-held devices used by vehicle inspectors within the workshop.
Instant operational/ engineering links
Remote defects (such as mobile or radio) entered into the system by operations staff instantly update workshop screens so that engineering has instant visibility of defects outstanding.
Filter by Priority
Defects can be given different priority levels so that critical items can be more readily identified and dealt with.
Report on different defect types
Defects can be reported on and analysed in terms of their source (driver defect, remote defect, or inspection defect).
Action immediately or store for future reference
Defects can be instantly issued to job-cards for immediate rectification. But where staff, a part, or the vehicle is not available Freeway stores the defect for future action. The defect can then be dragged and dropped onto a job-card at a later point (for example when the vehicle safety inspection is being carried out). It is possible to add a defect to a job-card and then later store the defect for future reference (if for example there are no available parts).
Links to separate labour records
A single defect item can give rise to multiple labour records required for rectification. Freeway keeps a separate record of the defect and the labour rectification dates.
Daily inspections and nil defect reporting
Freeway can assist in the management and automation of daily vehicle inspection documents, and the provision of nil defect reports.
Repeat defect reporting
Defects are maintained for the life of each vehicle and can be reported on by category (such as 'Brakes', 'Clutch' ) for a vehicle, a section of the fleet or the driver/inspector that reported the defect.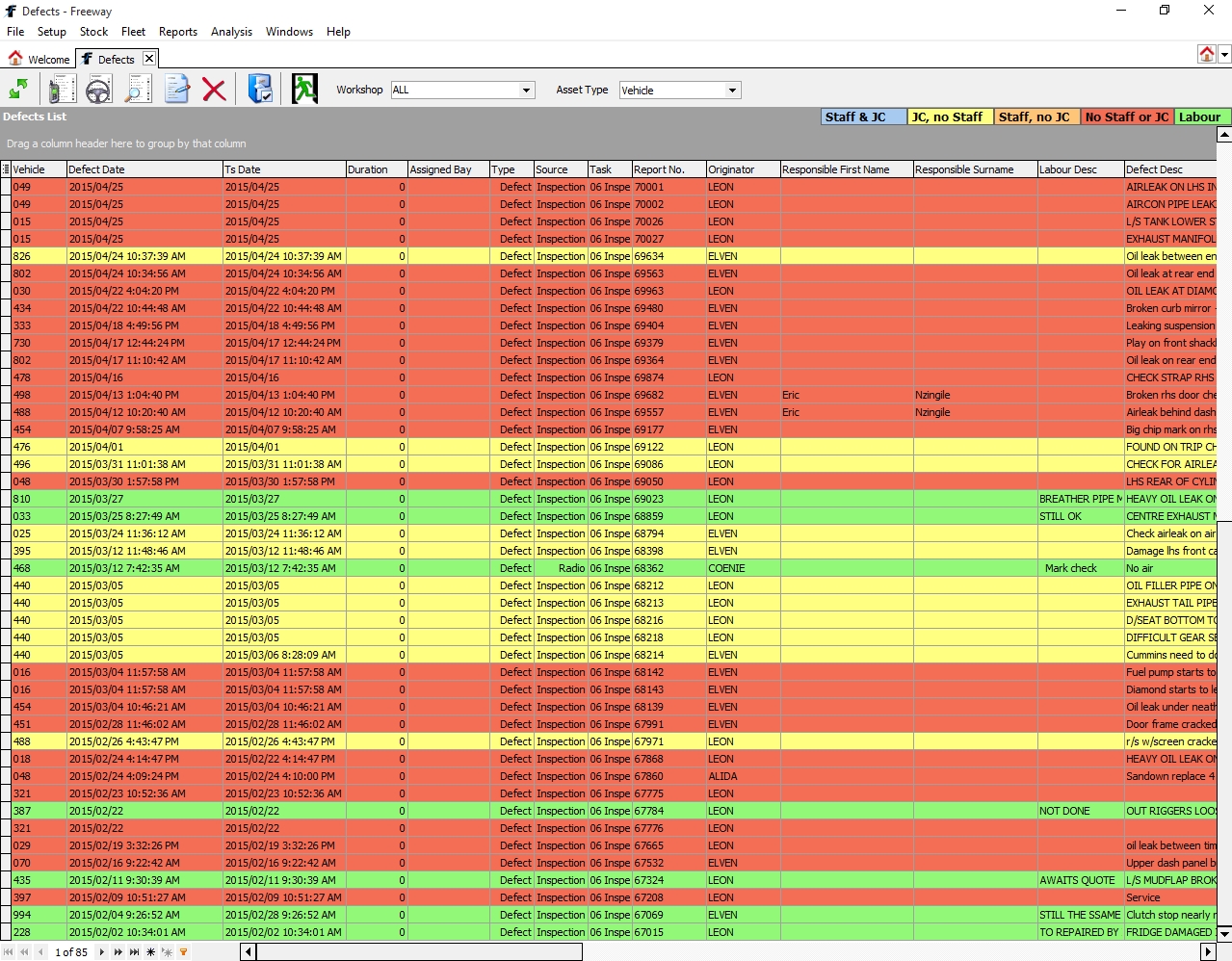 | | | | |
| --- | --- | --- | --- |
| | | | |
| Control all aspects of your fleet | Mobile Work recording | Mobile Authorisation | Advanced Analysis |
| Use a single integrated application to manage your asset register, fuel, stock, defects, routine maintenance, job-cards, sales invoices and much more besides. | Record ad-hoc defects, carry out structured vehicle inspections, and record work on our electronic job-card via smart phone or tablet. | Use the Freeway purchase order authorisation to enable your managers to view and control spend with our smart-phone based authorisation application. | Analyse the productivity and efficiency of your fleet, depot, staff, and suppliers. Freeway provides you with graphical, intuitive, flexible and instant analytic reporting. |
| Details | Details | Details | Details |
Training

Training can be provided at your premises or off-site to suit your requirements.

Our expert trainers are experienced and knowledgeable, having spent many years working in fleet management. They will work alongside you to ensure that you get the most from your Freeway software.

Training can be provided directly to your end-users, or at larger sites we can provide training to designated super-users with a 'train the trainer' approach.
Technology

Our focus has always been to leverage the latest technology to provide user-friendly solutions that meet our customer's problems.

This approach has led to progressive development of our software over many decades. The most recent developments of our web-based platform includes tablet and smart-phone applications (Apple, Windows and Android).

The software is modular and can be scaled as your fleet grows, or as your business processes change.
Integration

Freeway integrates with a host of back-end accounts packages (including, but not limited to: SAP, Accpac, Sage, Pastel, and Microsoft Great Plains), Fuel Monitoring Systems (such as Balvin, Triscan), Fuel Cards, Tracking Systems and TMS Systems.

Data can also be accessed directly from the ODBC compliant database, or via one of the more than 200 structured reports, or by right-click and 'open as Excel'.

Imports to Freeway can also be managed as standard EDIs (for example from your parts suppliers), or may be facilitated from the Freeway importer which produces Excel templates for you to populate and import vehicles, suppliers, parts, price updates, customers, and more.