Scheduling
A complete scheduling solution
Freeway provides a comprehensive solution for both preventative maintenance and administrative scheduling.
Events that are scheduled are entirely user defined in terms of event name, colour, and interval. Examples of events that may be scheduled include 'Safety Inspections', 'Annual Statutory Check', 'Tacho Check', 'Tacho re-calibration', 'Tax', 'Insurance', and 'Contract Expiry'.
Items can be scheduled based on time only, usage only or a combination of both (whichever comes first).
Wall chart presentation by day, week or month (with drag and drop facility).
Graph scheduled workload:
Scheduled items can be given estimated completion times (these can be based on ICME times or your own experience). You can then instantly graph workload levels on a weekly or daily basis. Where the workload is too heavy, events can be 'dragged and dropped' onto less busy weeks or days.
Usage based scheduling is dynamically linked to fuel import data, odometer capture on job-cards, interface with tracking (set globally with exceptions per asset type, for example Trailers may be linked to Tracking data, Vehicles to Fuel and Plant items to Job-Card data).
Time based scheduling may be based on 'Days' or 'Working Days' with multiple 'locality' calendars. It is therefore possible within different sections of a single fleet to both include and exclude holiday and week-end days into your schedule pattern as required.
Colour coded work list:
There is an action list showing all scheduled work for the entire fleet. The list is colour coded for ease of use. (Red = overdue, Blue = done, Yellow = In-progress, Grey = Pending).
The full action list shows vehicle registration, fleet number and date due. The list can be drawn for any period of time such as the next two weeks or the next three years and may be exported to Excel as required.
Flexible reschedule option:
An event can be rescheduled with the option to affect linked events or not. For example, if an oil change is carried out early you may wish to bring forward the subsequent oil change. However, if you conduct a safety inspection 2 days late you may not wish to push all subsequent inspections forward by 2 days.
Integrated fleet management:
The scheduler forms one part of the full fleet management system, working seamlessly with defect reports, job-cards and full service history reporting.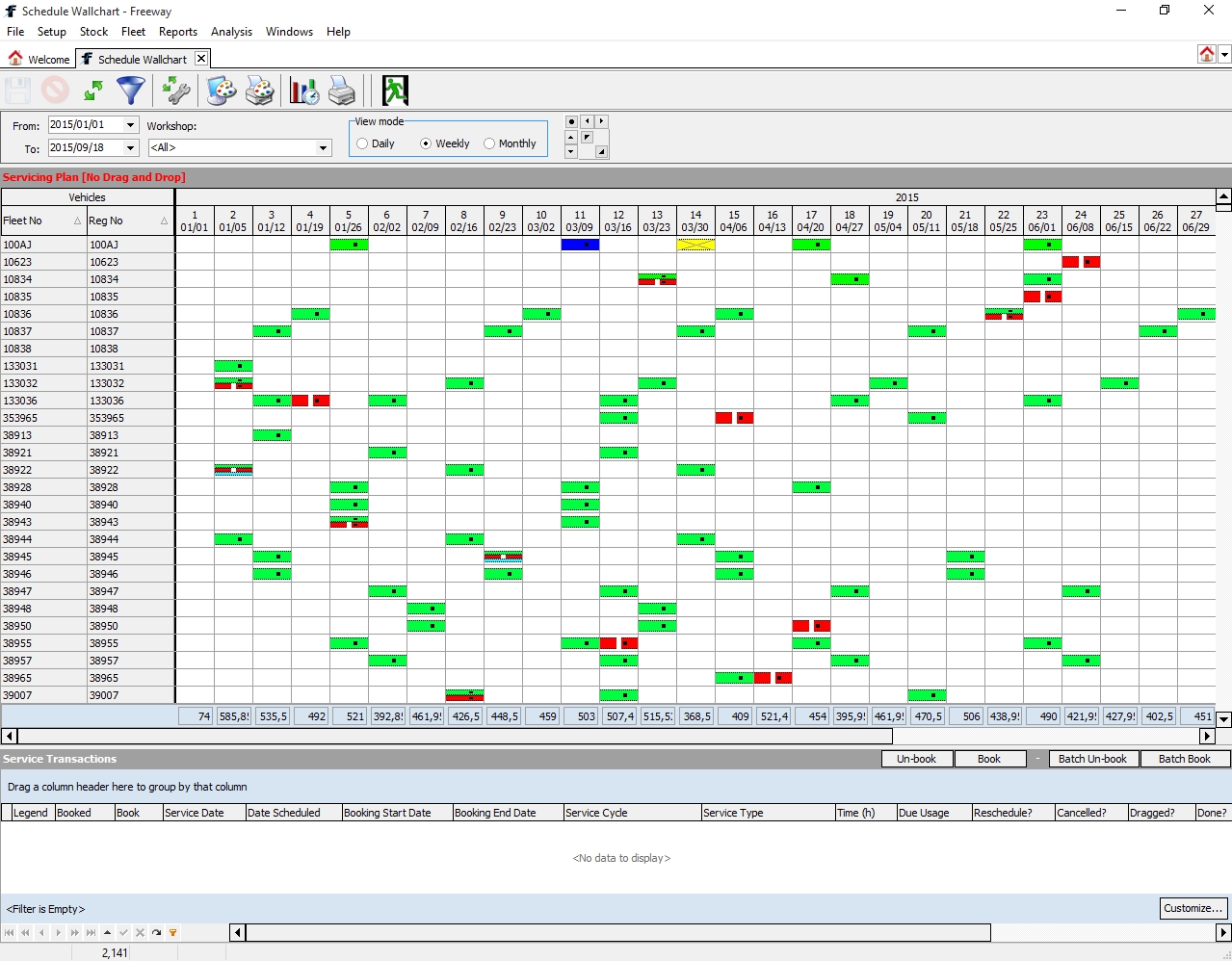 | | | | |
| --- | --- | --- | --- |
| | | | |
| Control all aspects of your fleet | Mobile Work recording | Mobile Authorisation | Advanced Analysis |
| Use a single integrated application to manage your asset register, fuel, stock, defects, routine maintenance, job-cards, sales invoices and much more besides. | Record ad-hoc defects, carry out structured vehicle inspections, and record work on our electronic job-card via smart phone or tablet. | Use the Freeway purchase order authorisation to enable your managers to view and control spend with our smart-phone based authorisation application. | Analyse the productivity and efficiency of your fleet, depot, staff, and suppliers. Freeway provides you with graphical, intuitive, flexible and instant analytic reporting. |
| Details | Details | Details | Details |
Training

Training can be provided at your premises or off-site to suit your requirements.

Our expert trainers are experienced and knowledgeable, having spent many years working in fleet management. They will work alongside you to ensure that you get the most from your Freeway software.

Training can be provided directly to your end-users, or at larger sites we can provide training to designated super-users with a 'train the trainer' approach.
Technology

Our focus has always been to leverage the latest technology to provide user-friendly solutions that meet our customer's problems.

This approach has led to progressive development of our software over many decades. The most recent developments of our web-based platform includes tablet and smart-phone applications (Apple, Windows and Android).

The software is modular and can be scaled as your fleet grows, or as your business processes change.
Integration

Freeway integrates with a host of back-end accounts packages (including, but not limited to: SAP, Accpac, Sage, Pastel, and Microsoft Great Plains), Fuel Monitoring Systems (such as Balvin, Triscan), Fuel Cards, Tracking Systems and TMS Systems.

Data can also be accessed directly from the ODBC compliant database, or via one of the more than 200 structured reports, or by right-click and 'open as Excel'.

Imports to Freeway can also be managed as standard EDIs (for example from your parts suppliers), or may be facilitated from the Freeway importer which produces Excel templates for you to populate and import vehicles, suppliers, parts, price updates, customers, and more.